4 Hair Masks For Knockout Tresses
Posted by Team LATHER on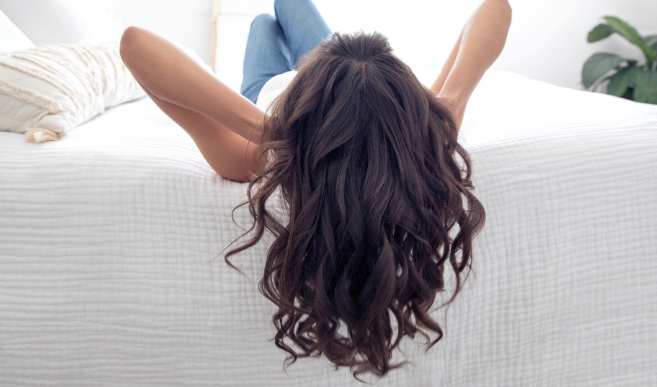 We lather and condition. We dry, style, spray, and spritz. And then we do it all over again a day or two later. The pursuit of shiny, healthy hair is practically a national pastime, especially for those of us with dry, over-processed or unruly tresses. Reverse the damage with a healthy hair timeout. Depending on your hair type and condition, whip up one of these homemade hair masks and let these natural, gentle solutions strengthen your strands and bring out your shine.
 1. The Shine Booster
The cure for lackluster locks? A shot of beer of course! Turns out, beer is not only loaded with health benefits including everything from lowering your risk of heart disease to slowing down tooth decay seriously, read more here but the component that gives it that robust flavor—hops—also helps restore the natural sheen of your hair. That's right, ladies and gentleman, although it might feel a little strange to pour a perfectly good beer over your head, the results are worth it.
Look for a beer with a high hop content, like an India Pale Ale (IPA). Before your at-home treatment, crack open the bottle and let the ale reach room temperature for at least an hour. Then, when you're in the shower, cleanse and condition and gently towel dry your hair to remove excess water. Massage the beer into your hair from roots to ends. After about 5 minutes, rinse with cool water. Use this mask once to twice a week to restore shine.
Tip: For an extra dose of shine, use club soda or carbonated sparkling water as your final rinse after your beer mask or anytime your hair feels dull. The pH of the club soda helps tamp down frizz while boosting shine. This is especially effective if you have hard water and don't use a shower filter.
2. The Frizz Fighter
Oh, the many wonders of the avocado. High in essential fats and a darling among the superfoods, avocados contain more potassium than bananas and a high concentration of 20 vitamins and minerals (here's the proof). The downside, of course, is that the unwatched ripe avocado can go bad on you without warning. Don't ditch it! An overly ripe avocado can bring life back to your locks and give strands the strength to hold up to frizz.
For a tried-and-true nutrient burst, mix half of one ripe avocado with one egg yolk and one teaspoon of olive oil. Using your hands or a paintbrush, work the hair mask into clean, dry hair from roots to tips. Pop on a shower cap and leave the mask on for at least 20 minutes. Rinse it out and follow up with a gentle shampoo and moisturizing conditioner.
Don't have time to whip up a nutrient-rich hair mask in the kitchen? No problem. We've done it for you! Try our avocado mint hair repair to give your dry, damaged tresses a deep moisturizing treatment. The avocado oil, a natural moisture magnet, in this hair-saving mask will leave your thirsty tresses quenched and more manageable than ever. The shea butter and jojoba oil then come in to lock in the moisture, leaving your strands glossy and gorgeous.
Tip: Is your hair both dry and suffering from styling damage? Baobab to the rescue! Our baobab and shea hair wash and conditioner duo both contain a creamy blend of baobab and shea butter that will breathe new life back into damaged hair.
3. Residue Remover
Nothing weighs down a hair more than build up from leave-in conditioners, styling potions, and chemicals from pools and hot tubs. A daily dose of our mint thyme hair wash and mint thyme crème rinse can keep build-up to a minimum but when you need a serious rescue, grab the apple cider vinegar. Vinegar helps to lift lingering debris and restore natural pH levels. The added benefit of a vinegar hair mask is that as the residue is removed, you'll get more bounce and body back. And that's a good thing!
Mix up your hair treatment by pouring 1/2 cup apple cider vinegar with one cup of water in a bottle with a tight-fitting lid and shake well. Shampoo as usual and towel dry hair. Slowly massage the mixture into your scalp first and then work in through the rest of your hair. Leave the mask on for 3 to 5 minutes and then rinse with cool water. Follow up with a gentle conditioner.
Tip: For chlorine-tainted tresses, add a dose of baking soda to your hair treatment. Mix about one tablespoon of baking soda into your shampoo (more if your hair is long) and then cleanse as usual.
4. The Damage Controller
When coloring, heat styling and the environment take their toll on your tresses, leaving them brittle, dried out and frizzy, reach for some serious damage control like this baobab and shea hair wash and conditioner.
If you haven't heard of it, the baobab tree, or "Tree of Life" as locals call it, can live for thousands of years in Africa's hot, arid climate. This tree boasts some serious nutrients including pulp high in vitamin C, fruits high in protein and oil, and leaves high in protein and calcium. Some real magic though lies in its seeds
which are rich in lipids or fatty acids. We've harnessed the moisturizing power of baobab seed extract and shea butter oil, blending them into our creamy hair wash and conditioner to rejuvenate and restore softness, shine, and manageability to dry, damaged hair.
Tip: Feeling daring? Try this home remedy for dry, brittle hair. Just massage some butter into your hair and wrap it in a towel or shower cap for 30 minutes. Shampoo as usual, rinsing out all of the butter, and enjoy shinier, softer hair.