Introducing: LATHER's Latest Cactus Flower & Aloe Gentle Face Scrub
Posted by Team LATHER on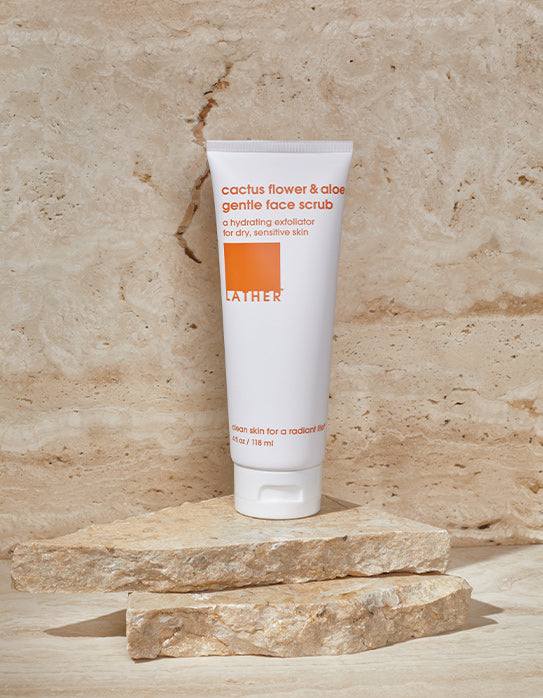 Escape to an oasis with our NEW Cactus Flower & Aloe Gentle Face Scrub — our most hydrating exfoliant yet! We formulated this product with a blend of desert botanicals that are known for surviving in dry, harsh environments. We all know that exfoliating is key to effectively removing dead skin cells to reveal a more radiant, glowing complexion. On a regular basis, our skin cells renew and the outer layer dies as new cells replace them. If we don't remove the dead cells, our skin can appear dull and pores can become blocked. We crafted this formula to work with every skin type, helping to remove flaky, dull cells on surface of skin and improve your skin's texture. Not only that, exfoliating will help your skin better absorb other products so they work more effectively. Let's explore how these desert botanicals do just that... we'll lead the way.
Instead of using water as the base for this product, we chose to use aloe vera juice from the leaves of the well-known succulent. Used by many cultures throughout history, this plant is known for its ability to calm, soothe, and hydrate skin. It is rich in amino acids and a variety of vitamins. We also turned to prickly pear cactus, using two different parts of this plant. Prickly Pear Flower Extract is an especially gentle chemical exfoliant that uses natural enzymes to boost surface exfoliation and eliminate dead cells. The seed oil within this plant's fruit is rich in linoleic fatty acid, which moisturizes and soothes skin. It absorbs quickly while providing a protective barrier without leaving that greasy after-feel. Similarly, we used two ingredients from the jojoba plant. The esters, made from jojoba oil, are biodegradable exfoliating beads. Because they are round and smooth, the tiny, non-abrasive spheres do not cause micro-tears often associated with physical exfoliants. As they roll over the skin, they gently stimulate and massage, while lifting away dry flakes. The seed oil from jojoba has a molecular structure that is very similar to the skin's natural sebum, so it easily absorbs. This lightweight oil softens and soothes, while helping to reduce water loss.
We asked a few of our customers to review this product and here's what they had to say:
"I have a difficult time with exfoliation. As someone with drier skin, I need it, but my skin sensitivity makes it challenging. My skin isn't just sensitive but reactive; it doesn't like acids for exfoliation (often makes me red and sore) and manual (gritty) exfoliation can be too abrasive. This scrub is just right. Rather than feeling like I have to rush to put on my moisturizer to keep my skin from getting uncomfortably tight, it feels refreshed and soft without any tightness as I pat dry. I think I've found my regular scrub! Thanks, Lather!" - Dana T.
"I have used many LATHER products over the years, and this is one of my favorites! The first application felt so soothing and moisturizing for my skin. As I continued to apply the product it felt cleansing in the gentlest way. My skin is incredibly sensitive, but this cleanser felt SO GOOD. I followed the scrub with the honey moisture mask and my skin felt like a cloud." - Patricia K.
"The best face scrub I have ever used by far! My face felt so smooth and hydrated afterwards. I am a lifetime customer of this scrub and I will be buying it for my mom and sister! I love it! Thanks Emilie for making it for sensitive skin people like me! Forever grateful." - Michelle E.
For the first week of the launch, a percentage of the proceeds from our scrub will be donated to the Desert Botanical Garden. Out of the 1,500 cactus species, 30% are threatened with extinction. They are working to study, restore and protect these iconic plants that will make the Sonoran Desert vibrant for generations to come. We are proud to give back to this incredible organization and their work to preserve these precious plants.