New Product Holiday Gift Guide
Posted by Team LATHER on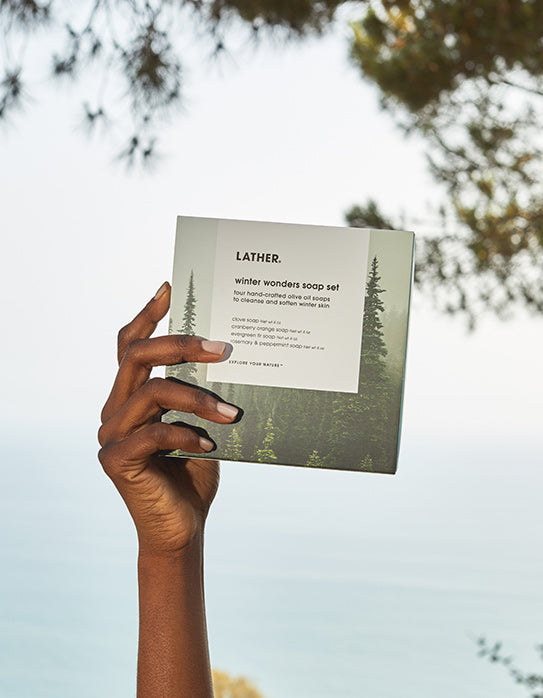 The holidays are finally here — and it's truly the most wonderful times of the year. One of the best things about buying presents is watching that special loved one open their gift. That's why we've created a holiday collection that makes it easier than ever to find the perfect present for everyone.
The best part of all? You can be sure that none of our products contain harmful synthetic fragrance, a pledge we've made from the very beginning. Each set is carefully curated to feature a unique range of products and aromas that are made to spread more comfort and joy.
FOR THE HOST
Whether you're planning to host a holiday event or need stocking stuffers for your guests, our NEW Winter Wonders Soap Set has got you covered. These hand-crafted soaps include organic olive oil to gently cleanse, while natural extracts keep them preserved for longer use. Each soap features a festive aroma that will invigorate the senses. Made for all skin types, these soaps are a great gift for anyone.
Clove Soap 4 oz
Cranberry Orange Soap 4 oz
Evergreen Eucalyptus Soap 4 oz
Rosemary & Peppermint Soap 4 oz

FOR THE JETSETTER
Take flight with our NEW Ready for Take-Off set — a collection of travel essentials made in TSA-approved sizes. We all know the risks of flying these days, that's why our Hand Sanitizer with Moisturizing Aloe and Lavender Hand Sanitizing Wipes are alcohol-based to help protect against the many common harmful bacteria and germs. To keep you feeling fresh along the way, we've included travel-ready essentials that condition, soothe and renew dry skin. Perfect for your holiday travels or a beloved jetsetter, this is the in-flight set everyone needs.
Hand Therapy 2.65 oz
Hand Sanitizer with Moisturizing Aloe 2 fl oz
Lavender Hand Sanitizing Wipes 10 pack
Lip Conditioning Balm .4 oz
Cucumber and Ginseng Facial Mist 2 fl oz
Radiant Recovery Sheet Mask x1
Zippered Travel Bag

FOR THE ONE THAT HAS IT ALL
Gift your loved one our NEW Enjoy Your Stay, a set of little luxuries they'll use again and again. We took our best-selling products made them into minis so they'll never have to leave home without our hair and body care favorites. From the Mint Thyme Hair Wash to the Bamboo Lemongrass Body Wash, these gentle cleansers invigorate with natural botanicals so every day can be a spa day. The hydrating heroes in this set all contain aloe and essential oils to lock in moisture anytime it's needed. This gift has everything your loved one will need to feel at home, while they're away from home.
Mint Thyme Hair Wash 2 fl oz
Yuzu Bergamot Crème Rinse 2 fl oz
Bamboo Lemongrass Body Wash 2 fl oz
Lavender Lime Moisturizer 2 fl oz
Lip Conditioning Balm .4 oz
Zippered Travel Bag