Revisit Your Ritual: What We're Using This Fall
Posted by Team LATHER on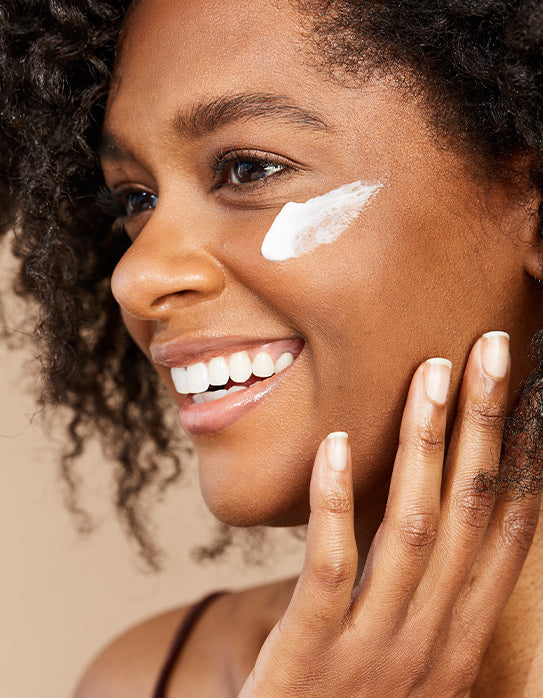 Fall is here. Just like the change in our wardrobe, a shift in our skincare routine helps to keep our skin comfortable in this new season. Even before that first leaf falls, the cool evening breeze begins to creep in, humidity drops, and our skin starts to crave more moisture. The light, delicate textures of summer have come and gone. Read on to discover which products we'll be using to transition to fall and beyond.
For Face
Essential Exfoliation
Any time we're heading into a new season, it's an opportunity to shed the old and embrace the new. Autumn is the perfect time to buff away any extra dirt, makeup, sunscreen, and other impurities left behind. The Cactus Flower & Aloe Gentle Face Scrub features both botanical beads and peeling enzymes to exfoliate skin while replenishing moisture with aloe and jojoba.
Vitamin Boost
Your lightweight lotion might feel like it's just not cutting it anymore. That's because the drop in temperatures is usually accompanied by moisture-zapping winds making your skin feel more dehydrated than normal. To combat your new skin needs, consider swapping your light moisturizer for a richer cream. The Sweet Almond Face Moisturizer packs essential vitamins and plant-based oils into a luxurious cream for daily use.
Overnight Reset
Our skin does most of its healing and regeneration while we sleep. Because of this, the products we put on our skin overnight have a large impact on how our skin looks and feels. The Australian Plum Night Crème is full of nourishing botanicals like shea butter and aloe. It also contains restorative actives such as Vitamin C, antioxidants, and phytonutrients to help your skin feel fresh and smooth every morning.
Eye Radiance
A versatile, day-to-night eye cream is crucial any time of the year, and fall is no exception. You might find that the delicate skin around your eyes is more prone to dryness in the fall and winter, making regular hydration essential. The highly-concentrated, non-greasy finish of the Australian Plum Eye Crème offers soothing hydration and eye-brightening properties in a fragrance-free formula.
LATHER Tip: leave your tube in the fridge before use for a soothing eye treatment.
Year-Round Protection
Summer might be behind us but sun protection is far from over. UV rays are damaging all year, even on overcast days. While many sunscreen products on the market are thick and difficult to blend, the Daily Defense Mineral SPF 50 Facial Sunscreen offers high, broad-spectrum protection with a sheer, flattering tint, and a seamless, light-as-air texture.
For Body
Hand Nourishment
Not only are hands exposed to the elements more often than any other part of our body, but they will also experience dryness from hand washing as we head into cold and flu season. Hand Therapy relieves active, weathered, and dry hands with the power of shea butter, oat kernel extract, and olive fatty acids.
LATHER Tip: we keep one of these at our bedside table, at our office, and in our purse for hydration on the go.
Rich Body Creams
Is there anything more satisfying than a nourishing body cream ritual after a hot shower? This self-care routine feels especially soothing with a luxurious body cream like the Manuka Honey Body Butter. It's formulated with soothing manuka honey, comforting shea butter, and kukui nut butter to leave skin soft and supple.
Intensive Hydration
On days that your skin is in need of something extra, the Almond, Milk & Honey Body Butter offers ultra-rich moisture to soften and condition skin. Our richest body cream revives skin with essential vitamins and creates a protective layer on the skin, shielding it from the elements and locking moisture in.
Bonus: Bath
There's never a better time for a warm, relaxing bath than when the weather begins to turn. Not only do bath bombs nourish our skin with hydrating oils and soothing minerals, but the act of self-care does wonders for our mental well-being.