Soothing and Caring for Sensitive & Eczema-Prone Skin
Posted by Team LATHER on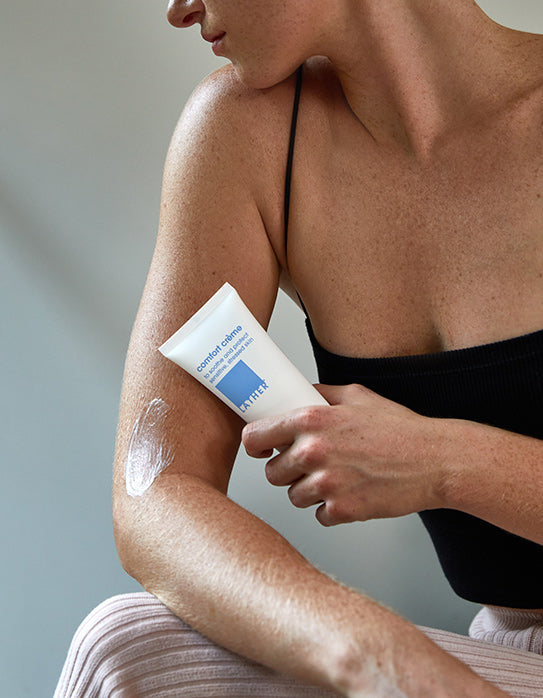 As we head into the cooler, moisture-zapping seasons of fall and winter, we are reminded to provide our skin with additional hydration and care. Sensitive and eczema-prone skin types are affected more substantially by changes in climate and with October being Eczema Awareness Month, we wanted to shine a light on the skin condition that affects many in our LATHER community.
Breaking It Down: What Is Eczema?
Eczema (or atopic dermatitis) is an inflammatory skin condition that manifests in dry, itchy, and sometimes irritated skin. This chronic, non-contagious condition can affect people of any age. Since eczema damages the skin barrier, it makes skin more prone to dryness and red, inflamed skin patches. See below for additional facts on eczema:
Over 10% of adults in the US have some form of eczema
Itchiness is the most common symptom that people with eczema experience
Around 80% of people with eczema developed symptoms before 6 years of age
Half of eczema patients spend 8+ days a month with a flare-up
About 1 in 3 adults with eczema report sleep problems due to their skin condition
Eczema and Sensitive Skin: Ingredients To Avoid
Eczema-prone and sensitive skin types have to be especially careful when selecting products to use. Applying the wrong ingredient can result in a flare-up and further irritation. Here are a few ingredients to avoid:
Fragrance, including natural fragrance and essential oils. This is the most common skin allergen.
Lanolin. A common skincare ingredient derived from sheep's wool.
Retinoids. This exfoliating family of acids is commonly used for acne and anti-aging but can be too harsh for sensitive skin.
Propylene Glycol. A skincare emulsifier that is used in many moisturizer products. It is a common cause of contact dermatitis.
Urea. Commonly used for other skin conditions like psoriasis and calluses, it can cause irritation in eczema patients.
For an extensive list of eczema triggers, explore them here.
To avoid and calm flare-ups, doctors recommend that people with eczema take short baths or showers, use a gentle, fragrance-free cleanser, dry themselves gently, and moisturize frequently.
Our Approach to Sensitive Skin
We had sensitive and eczema-prone skin in mind when we developed our newest body care hero, Comfort Crème. The calming crème is formulated to soothe the visible signs of sensitivity, moisturize and comfort dry skin, and strengthen the skin barrier. It can be used anywhere that you experience stressed skin or dry patches.
Developing Our Comforting Formula
When it comes to dehydrated, sensitive skin, the ingredients left out of a formula are just as important as the ones included. The formula is free of ingredients that are considered common triggers to those with sensitive or eczema-prone skin. Comfort Crème is dermatologist and allergy tested and is non-irritating*.
Discover the innovative combination of gentle, yet effective natural ingredients found in Comfort Crème:
Ophiopogon Japonicus (Mondo Grass) Root Extract strengthens the skin barrier with oligosaccharides, a type of carbohydrate that calms skin and promotes hydration. It supports a balanced microbiome (the bacteria on the surface of the skin), protecting against future stress.
Avena Sativa (Oat) Kernel Extract contains unique antioxidants called avenanthramides that comfort and reduce the appearance of redness. Our formula uses an advanced, standardized form of oat extract that ensures consistent potency of this powerful ingredient.
Ceramide NP is combined with Omega 6 Fatty Acids to form a structure that is similar to the ceramides in our skin, locking in moisture while defending against harsh elements and protecting against future stress.
Phaeodactylum Tricornutum Extract is a delicately encapsulated Microalgae oil that helps support the skin's ability to defend itself, a mechanism weakened by sensitivity.
Sodium Hyaluronate (from Hyaluronic Acid) is blended with olive-derived Squalane to attract moisture to the skin and create a barrier to prevent moisture loss.
Soothing Comfort For All
Whether your skin is eczema-prone, sensitive, or just in need of a hydration boost, Comfort Crème's formula is free of fragrance, sulfates, parabens, artificial color and mineral oil, and is suitable for all skin types.
Comfort Crème FAQ
Is this product vegan?
Yes.
Does this product contain steroids?
No.
Is this product scented?
The formula does not contain any fragrance (natural or synthetic), essential oils or ingredients designed to mask its scent.
Where can this product be used?
Comfort Crème was developed as an all-over body product but can also be used on the face. It is for external use only and the eye area should be avoided.
Will this product irritate my skin?
Comfort Crème was clinically tested by a dermatologist on 100 adults to determine its irritation and sensitization (contact allergy) potential. No adverse reactions were reported and there was no indication of the potential to irritate skin. However, each individual has their own unique skin care needs and experiences. If you have concerns, we recommend patch testing first.
Is this product safe to use on children?
Based on the results from our clinical testing* and the gentle formulation, we don't expect any issues with younger age groups. However, if someone has safety concerns for their children or babies, we recommend consulting with their doctor first.
*This product was tested by a dermatologist on 100 adults to determine its irritation and sensitization (contact allergy) potential after repeated applications to the skin. Under the conditions of the study, no adverse reactions were reported and there was no indication of potential to elicit dermal irritation.
Resources
Eczema Resource Center, American Academy of Dermatology Association. https://www.aad.org/public/diseases/eczema
What is Eczema? National Eczema Association. https://nationaleczema.org/eczema/ 8 Skincare Ingredients
To Avoid If You Have Eczema, According To Dermatologists, National Eczema Association. https://nationaleczema.org/blog/8-skincare-ingredients-to-avoid/
Eczema Facts, National Eczema Association. https://nationaleczema.org/research/eczema-facts/ Dermatitis, Mayo Clinic. https://www.mayoclinic.org/diseases-conditions/dermatitis-eczema/symptoms-causes/syc-20352380