All About Serum
Posted by Team LATHER on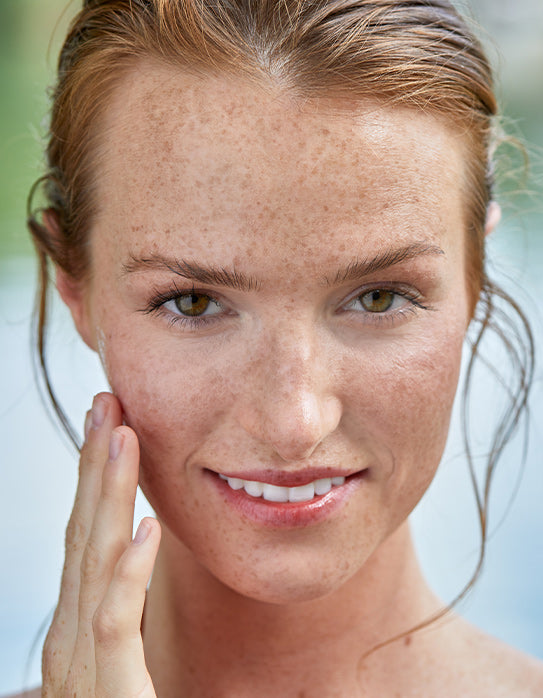 When building a face care routine, which products come to mind? Cleansers and moisturizers are usually at the top of the list. But what if we told you that there's another skincare product that can transform your skincare routine and help you achieve your desired results faster? That's right – we're talking about face serums.
What is a Serum?
Serums are light, water-based formulations that absorb quickly into the skin due to their thinner texture. These little powerhouses are chock-full of ingredients that address specific skin concerns like dryness, dullness, and acne. They have higher concentrations of active ingredients than a typical moisturizer, making them perfect to layer under a hydrating cream or lotion.
It's important to apply serums prior to moisturizer in order to receive optimal skin benefits. Creams and lotions create a barrier on the surface of the skin that can prevent serums from reaching the skin below. Applying serum first gives the skin the opportunity to absorb its active ingredients before applying heavier products.
Benefits of Facial Serums
If you're looking to treat a specific skin concern, a serum might be the answer to your skin woes. These nutrient-packed concentrates deliver a high dose of ingredients for targeted results.
Serums can help with:
Dullness and the appearance of dark spots. Our Vitamin C Peptide Renewal Serum contains a uniquely stable form of Vitamin C to help boost skin radiance and provide antioxidant protection.
Blemishes. The Advanced Blemish Control Serum uses salicylic acid and lactic acid to gently exfoliate and help clear congestion.
Fine lines and wrinkles. Our Wrinkle Remedy Serum features plant cells from Gamay grapes and Swiss apple which help to reduce the appearance of fine lines and wrinkles and protect skin from oxidation.
Introducing: Mega Moisture Magnet
Is your skin feeling a bit parched from the moisture-zapping winter elements? Our new hyaluronic acid serum, Mega Moisture Magnet, is a thirst-quenching milky serum packed with ingredients to hydrate and nourish your skin. This light, soothing serum helps to tackle dryness and dehydration while supporting your skin barrier.
Discover the supercharged hydration of our curated formula:
Hyaluronic acid and Vitamin B5 attract and bind water to the skin, increasing hydration levels and creating an immediate plumping effect
Ceramides and plant-derived squalane help to strengthen the skin barrier and lock in moisture
Gingko Biloba and green tea extracts provide calming properties to dry, stressed skin
Love For Mega Moisture Magnet
"Gorgeous texture that soaks into my skin. Plays well with other products and leaves my skin hydrated and plump." - Sandra
"It's not heavy, hasn't caused breakouts, and I can use it on my eyes and neck as well and see a refreshed dewy look after I apply it." - Marie W
"I have been using this new version for about a week. It feels creamier than the original Moisture Magnet but is not greasy at all. The texture of my skin is noticeably smoother – even my husband noticed! - Carola