Why Synthetic Fragrance-Free Matters
The fragrance industry is entirely self-regulated with zero oversight from the federal government. Synthetic fragrance is generally created in a lab using toxic chemicals that cause harmful health implications and negatively impact the environment. They are often disguised under the blanket term "fragrance" or "parfum" as an ingredient. That's how many products list synthetic fragrance without disclosing it on the label. We've pledged from the very beginning to never use synthetic fragrance in any of our products. But we aren't stopping there. With 2-11% of the population experiencing skin allergies from fragrance and a study by the National Oceanic and Atmospheric Association (NOAA) finding that emissions from volatile chemicals like scented consumer products are rivaling vehicles as a source of pollution, we believe you have a right as a consumer to know exactly what's going on your skin and in the environment. We are committed to changing the face of beauty with more transparency.
Defining Clean Beauty
"There's no clean beauty without transparency and that includes fragrances. At LATHER, we are committed to the education behind our ingredient choices but most importantly our decision to use zero synthetic fragrances in our products and we urge other brands to do the same." 
Emilie Hoyt, LATHER Founder 
1
We are 100% committed to never using synthetic fragrance in our products.
2
We work hard, using advanced resources and technology, to bring you products that make you feel real in your own skin.
What We Are Doing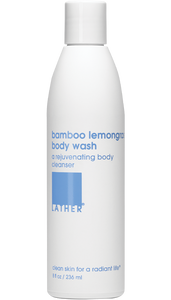 3
Our founder, Emilie Hoyt, continues to lobby for more health-protective laws with the Counteract Coalition.
4
We work and donate to key organizations including Black Women for Wellness to address the issue of toxic ingredients that largely affect communities of color.
What You Can Do
Look for parfum and fragrance in all your products — from beauty to household. Switch to natural aromas to provide safer scents throughout the home.
Choose essential oils for their ability to soften, soothe, ease anxiety, boost immunity, and more.
Properly dispose of fragrance, which may contain remnants of toxic chemicals that can be hazardous to the environment.
Support legislation that requires fragrance ingredient disclosure and strict chemical safety screening that puts public health first.
Advocate for fragrance free spaces by visiting the American Lung Association for sample policies you can submit to your workplace, school, park, etc.
Contact companies via phone or email to request their disclosure of all fragrances and/or eliminate them completely.
Share the dangers of synthetic fragrance with your friends, family, community and other loved ones.
Text Fragrance to 52886 to get updates and connect to others in your area to take on the dangers of toxic fragrance.