Best Skincare Routine For Your 40s
Posted by Team LATHER on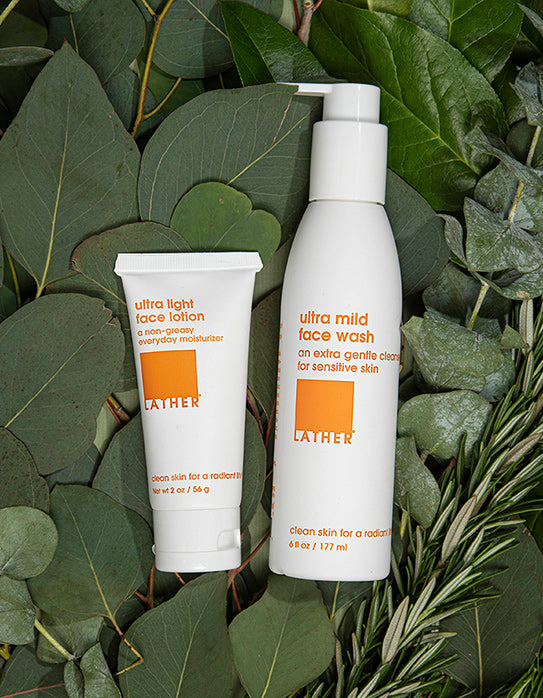 Your 40s mark a significant phase in your skincare journey, where your skin experiences changes that require thoughtful care and attention. At LATHER, we understand that embracing the aging process and nurturing your skin with healthy, effective products are essential to maintaining a radiant and youthful complexion. 
As caretakers, tenacious problem solvers, and truth-tellers, we are committed to providing wellness products that deliver real results. Let us guide you through LATHER's best skincare routine for your 40s, leveraging the wisdom of our skincare-savvy team to inspire your age-defying journey.
The Beauty of Aging Gracefully: Changes to Expect in Your 40s
Entering your 40s is a beautiful and empowering phase of life. However, your face and body may encounter changes during this decade, requiring special care. Fine lines and sun spots may become more pronounced, affecting overall skin tone and texture. But with the right skincare regimen, you can continue to glow with timeless beauty and confidence. 
Step 1: Gentle Cleansing for a Fresh Canvas
As you embrace your 40s, a gentle yet effective cleansing routine is paramount. Start your day with a facial cleanser, like the Ultra Mild Face Wash, a nurturing blend infused with lavender and chamomile extracts. This formula gently purifies and calms your skin, prepping it for the day ahead.
Step 2: Rejuvenate and Nourish with Antioxidants
Looking to combat the effects of environmental stressors? Enhance your skincare routine with our Cucumber & Ginseng Facial Mist. This refreshing facial mist is infused with antioxidant-rich cucumber and ginseng extracts, working harmoniously to revitalize and brighten your complexion. Spritz this hydrating mist on your skin throughout the day for a burst of moisture that sets makeup and gives your skin that radiant glow you've been craving.
Step 3: Mega Moisture and Wrinkle Remedy
In your 40s, hydration becomes even more critical, which is why serums are so important. Embrace the power of  Mega Moisture Magnet, a hyaluronic acid serum made with a potent blend of ceramides and plant-based squalane to strengthen the skin barrier and improve moisture retention. Follow it up with our Wrinkle Remedy Serum, formulated with a fruit cell extract that reduces the look of fine lines, protects skin from environmental stress, and promotes the skin's ability to self-renew.
Step 4: Embrace Age-Defying Oils
Nourishing facial oils play a vital role in your 40s skincare routine. Indulge in our Chia Seed & Passion Fruit Facial Oil, a rejuvenating, fast-absorbing blend of potent botanicals that moisturizes skin and provides antioxidant protection, leaving it radiant and supple.
Step 5: Revitalize and Repair at Night
As you wind down for the night, pamper your skin with our Chia Seed & Passion Fruit Cleansing Oil to gently remove impurities and makeup without losing natural oils. Then follow it up with the restorative, firming Australian Plum Night Crème: a renewing treatment that supports healthy collagen to reduce signs of stress and aging. This powerhouse duo works together to repair and restore your skin while you sleep.
LATHER Staffers Share Their Skincare Routines
Meet Kristen, 45
Skin Type: Dry
Morning Routine:
Nighttime Routine:
Cleanser:  Chia Seed & Passion Fruit Cleansing Oil
Serum: Vitamin C Peptide Renewal
Moisturizer: Australian Plum Night Crème
Meet Melissa, 45
Skin Type: Normal with discoloration
Morning Routine:
Cleanser:  Ultra Mild Face Wash
Exfoliator: Cactus Flower & Aloe Gentle Face Scrub (2-3 times a week)
Serums: Wrinkle Remedy Serum and Mega Moisture Magnet
Moisturizer: Sweet Almond Face Moisturizer
Sunscreen: Daily Defense Mineral SPF 50 
Nighttime Routine:
Cleanser: Chia Seed & Passion Fruit Cleansing Oil
Moisturizer:  Australian Plum Night Crème
Age Gracefully with LATHER
In your 40s, your skin deserves the very best – effective, thoughtful, and age-defying products tailored to your needs. Embrace LATHER's skincare routine and empower yourself to age gracefully, radiating timeless beauty with every step of the journey.