Meet Gua Sha & Glow: The Ultimate Body Massage Gift Set
Posted by Team LATHER on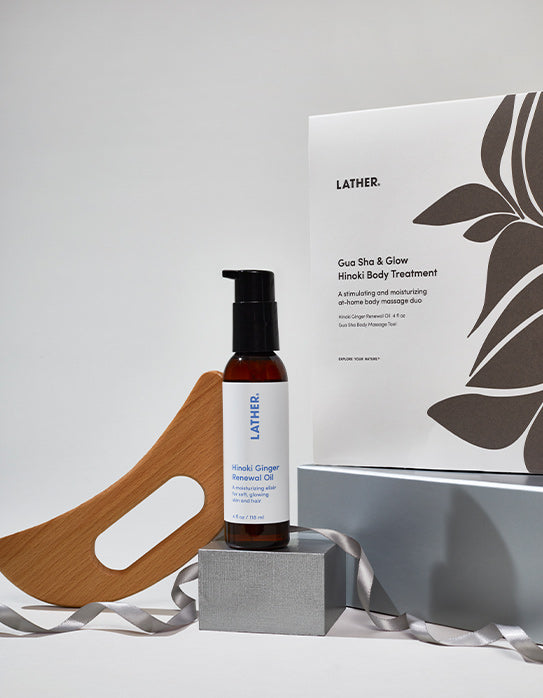 Are you ready to embark on a journey towards radiant, rejuvenated skin and a profound sense of well-being? Gua Sha & Glow offers a unique beauty and skincare gift set that promises a rejuvenating experience like no other. This exceptional combination includes a nourishing body oil designed to hydrate your skin and a versatile massage tool to awaken your body and enhance your overall well-being.
About Gua Sha & Glow
Gua Sha & Glow isn't just another beauty product; it's a holistic wellness experience. This gift set draws inspiration from the ancient Chinese practice of gua sha, a body and face scraping technique renowned for its numerous health benefits. The term "gua sha" directly translates to "to scrape sand," a testament to the invigorating experience it provides.
Let's dive into what makes this skincare gift set truly exceptional. First, let's explore the two key components of this 2-piece set:
1. Hinoki Ginger Renewal Oil (4 fl oz)
Say hello to the key to hydrated, glowing skin – Hinoki Ginger Renewal Oil. This lightweight, fast-absorbing elixir is your secret weapon against dry skin, and here's why it's extraordinary:
Replenishes Dry Skin: This oil is a rich source of nourishing moisture, offering the perfect solution for dry, parched skin.

Promotes Radiant Skin: Prepare to showcase a healthy-looking glow! This oil effectively prevents moisture loss, leaving your skin looking and feeling rejuvenated.

Enhances Hair Shine: But that's not all; it also works wonders on your hair, boosting shine and reducing dryness.

Natural Ingredients: The magic lies in the natural ingredients it contains. With components like sesame seed oil, camellia seed oil, and cucumber seed oil, you're embracing pure, natural goodness.

Calming Essential Oils: For the ultimate relaxation, we've blended this oil with calming essential oils like Hinoki (Japanese cypress), ginger, bergamot, and ylang-ylang. Your senses are in for a treat!
2. Gua Sha Body Massage Tool
The second star of the Gua Sha & Glow ensemble is the Gua Sha Body Massage Tool. Crafted from FSC-certified beech wood, it embodies natural simplicity and ease of use. But what can this little tool do for you?
Enhance Your Well-Being: While it may appear simple, this tool holds the power to provide gentle yet effective gua sha massages, offering rejuvenation, stimulation, and an overall sense of well-being.

Promote Lymphatic Drainage: Gua sha massages follow the body's meridians, channels through which the life force, or qi, flows. This helps disperse stagnant blood, stimulate blood flow, and encourage lymphatic drainage.

Say Goodbye to Tension: Tight muscles and tension stand no chance against the magic of gua sha.

How to Use Gua Sha in Your Beauty Routine
Gua sha is a simple yet effective practice that you can easily incorporate into your self-care routine. To make the most of it and ensure safety, consider these guidelines:
Gua sha on the body aligns with the meridians of Traditional Chinese Medicine (TCM), the channels through which energy, or qi, flows. To use the Gua Sha Body Massage Tool effectively:
Step 1: Apply the Hinoki Ginger Renewal Oil to clean skin.

Step 2: Hold the massage tool by the handle, positioning the curved side against the body so that it is almost flat. Apply upward sweeping strokes, using gentle to moderate pressure. Repeat this motion several times before moving to the next location. Use for a full body massage, from the neck to the hands and feet. Or you can concentrate on a specific area for a targeted treatment.

Step 3: Once your massage is complete, drink lots of water.
For the best results, repeat this process regularly, beginning with 2-3x a week and working your way up to daily usage.
In a world brimming with choices, Gua Sha & Glow is your mindful gateway to ethical, high-quality skincare. Embrace the magic of Gua Sha & Glow today and unlock the secrets of skin revitalization cherished for centuries.
We can't wait for you to begin your journey towards radiant, rejuvenated skin and an enhanced sense of well-being.
Experience the Magic of Gua Sha & Glow Today! 🛍️