Build The Routine To Refresh and Restore Your Hair
Posted by Team LATHER on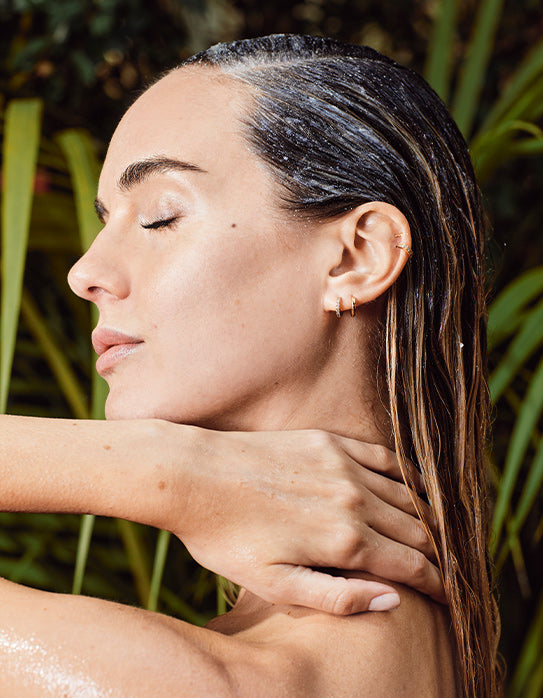 If you've ever been lost in the hair care aisle, trying to determine which products will work for your hair type, you're not alone! With many different textures and needs, determining your hair type can feel like a daunting task. However, understanding your hair type is the key to finding the right hair care routine that will leave your hair healthy and manageable. Read on to explore the three different hair types and discover a new personalized hair routine.
The Three Hair Concerns
There are so many different variations of hair, from straight, wavy, curly and coarse. Each head of hair is as beautiful as it is unique. It's so important to know how to care for your strands, but how do you know where to start? We're breaking it down into three simple categories that will help you create an easy routine whatever your hair concerns.
Dry Hair
Dry hair lacks moisture and can be prone to breakage and split ends. If your hair feels rough to the touch and you deal with a lack of shine and excess frizz, your hair might be dry. Hair can become dry for a variety of reasons: genetics, over-washing, heat styling, and exposure to wind and sun.
Damaged Hair
Damaged hair has many of the same symptoms as dry hair – frizz, split ends, and dullness – but it is a result of heat or chemical color damage. Using heat styling tools and chemically altering hair with color or perms can change the integrity of the hair, making it prone to breakage and a lack of elasticity.
Fine/Oily Hair
Fine and oily hair is characterized by its delicate texture and low density. Due to its fine structure, oils can travel down the strands easily and make the hair oily quickly. Fine and oily hair may require more frequent washings to keep it clean and healthy.
Back To Basics
Healthy hair begins at the scalp. Before we get into how to take care of your strands, let's start at the root. Regular exfoliation is key to improving hair health as it clears buildup on the scalp and clears the way for healthy hair to come through. We recommend a weekly treatment of our Avocado Mint Foaming Scalp Scrub to remove congestion at the root. The unique blend of bamboo and charcoal helps to detoxify while peppermint oil stimulates the scalp.
Building Your Routine
Whether your hair is straight, wavy, curly, or coily – addressing its unique concerns can help to promote manageability, shine, and overall hair health. Every shampoo that we make is completely sulfate-free and safe for all hair types – including color-treated hair.
Dry Hair Routine
Dry hair types develop when your hair doesn't retain enough moisture and can create symptoms like dullness and frizz. These hair types typically require richer products to effectively moisturize. We suggest our Bamboo Crème Collection – designed specifically for thirsty hair. A special blend of jojoba oil and aloe vera provides hydration to parched hair, making it soft and easy to manage.
Damaged Hair Routine
If your hair has become damaged due to color treatment or heat styling, we have the perfect pairing.
Our Baobab & Shea Collection features baobab seed extract, an ingredient rich in proteins and amino acids to help strengthen hair and recover from damage. Mixed with nourishing shea butter, this rich and creamy collection promotes more resilient hair.
Fine/Oily Hair Routine
Fine and oily hair types often require more frequent cleansing. They can also be easily weighed down by heavy products like butters and hair oils. We recommend a lightweight, refreshing hair routine from our Mint Thyme Hair Collection. The invigorating blend of peppermint and thyme essential oils stimulates the scalp to effectively cleanse without stripping the hair. Best of all, this formula is great for everyday washing.
Treatments and Hair Cocktails
If your hair type doesn't fit into one of the categories above, don't worry. All of our scalps and strands have individual needs and sometimes, we need to create a unique cocktail of products to address our specific hair concerns.
For example, if your scalp is oily but your ends are very dry, try the Mint Thyme Hair Wash followed by the Bamboo Crème Conditioning Rinse and focus the conditioner on your ends.
If your hair has accumulated buildup after applying rich conditioners and oils over a period of time, use the Avocado Mint Foaming Scalp Scrub to exfoliate and stimulate your scalp.
Color-treated and heat-styled hair can benefit from the regular use of a deep conditioner like the Avocado Mint Hair Repair. This nourishing treatment helps to restore strength and shine to damaged hair.
Do you have questions about your hair needs? Connect with us in store for a free hair consultation or reach out to us on our web chat to ask your hair-related questions.