Skin, Hair & Nail Renewal: Introducing Our New Oils
Posted by Team LATHER on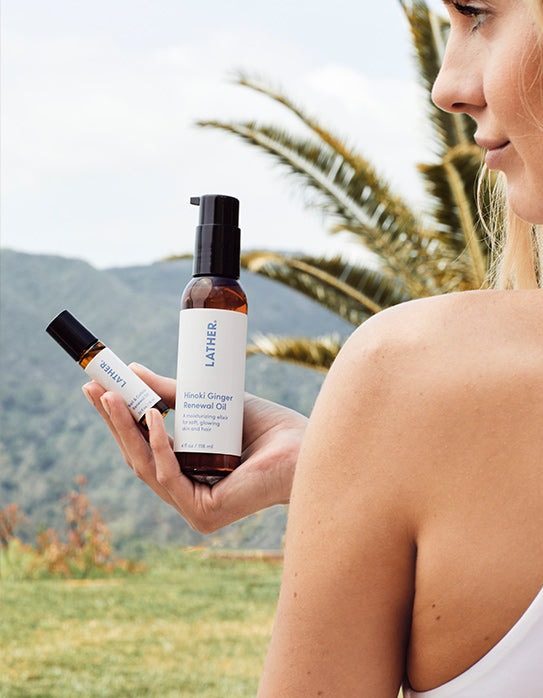 With the weather heating up, we thought it was the perfect time to share our two summer essentials – sure to give you that coveted glow. Say hello to the Hinoki Ginger Renewal Body Oil and the Nail & Cuticle Renewal Oil.
Featuring unique ingredients from across Asia and Africa, these moisturizing oils provide luxurious moisture while sealing in hydration and keeping your skin soft and supple.
Radiance and Nourishment in a Bottle
Restore moisture to parched skin with the Hinoki Ginger Renewal Body Oil! Created with a carefully selected blend of light but potent oils, this formula revitalizes skin with a silky, fast-absorbing texture.
A special blend of hinoki (Japanese Cypress), ginger, bergamot, and ylang-ylang essential oils provides an aromatic experience reminiscent of a walk through the forest. This therapeutic blend can offer similar benefits to forest bathing: lifting your mood, refreshing your senses, and creating a peaceful environment.
Here are some other star ingredients:
Sesame seed oil nourishes, soothes, and softens with a light finish
Antioxidant-rich camellia seed and cucumber seed oils protect against environmental stress while omega fatty acids reinforce the skin barrier and condition hair
A special blend of plant-derived ingredients, polycitronellol acetate, undecane and tridecane, acts as an alternative to silicones, imparting a light texture and helping to reduce frizz
Fast-absorbing jojoba seed oil provides lightweight moisture with a texture similar to our skin's natural oils
Rosehip seed oil supports the skin's moisture barrier with omega-3 fatty acids
LATHER Tip: Not just a body oil. We love to use this oil on our hair ends to tame frizz and add a glossy shine.
Healthy Nails at Your Fingertips
It's the season of the mani. Show off a moisturized, polished look with our new Nail & Cuticle Renewal Oil. This treatment features a unique blend of botanical oils and moisturizers designed to nourish, protect, and restore vitality to your nails and cuticles.
Hibiscus seed oil provides an antioxidant Vitamin E boost, protecting nails and cuticles from environmental stress
Derived from the arid deserts of Africa, Kalahari melon seed oil helps to soothe cuticles and lock in moisture with omega-6 fatty acid
Amaranth seed oil, a plant source of squalene, reinforces the moisture barrier and softens the skin and nails
Nourishing shea oil moisturizes and improves the appearance of dry, flaking cuticles
Close in texture to our skin's natural oils, jojoba oil provides lightweight moisture to rough cuticles
Omega-rich hemp seed oil calms skin and helps to restore vibrancy to dry, dull nails
To complete this softening formula, we've added organic essential oils of lemon, cypress, geranium, and clary sage. This bright, unique blend provides a refreshing and reviving scent experience. LATHER Tip: The roll-on applicator makes this oil the ultimate on-the-go companion.